Queens StartUP! competition is a signature program of the QEDC that provides Queens-based small business owners and aspiring entrepreneurs with business education, mentoring, access to capital and skill development. We aim to help and encourage startup phase businesses to grow in a way that will create jobs, strengthen and diversify neighborhoods in the borough of Queens. The 2019 StartUP is about to begin! The first step you can take is to sign up for one of our orientation sessions held at libraries through Queens so you can learn how you can compete. Click the link for each session to RSVP and get the address.
Orientation Sessions
Queens Central Library | Saturday, September 8 at 10:30 AM
Cambria Heights Library | Monday, September 10 at 6:30 PM
Broadway Library | Wednesday, September 12 at 4:30 PM
Peninsula Community Library | Thursday, September 13 at 6:30 PM
Long Island City Library | Monday, September 17 at 6:30 PM
Flushing Library | Thursday, September 20 at 6:30 PM
Congratulations to our 2018 Winners!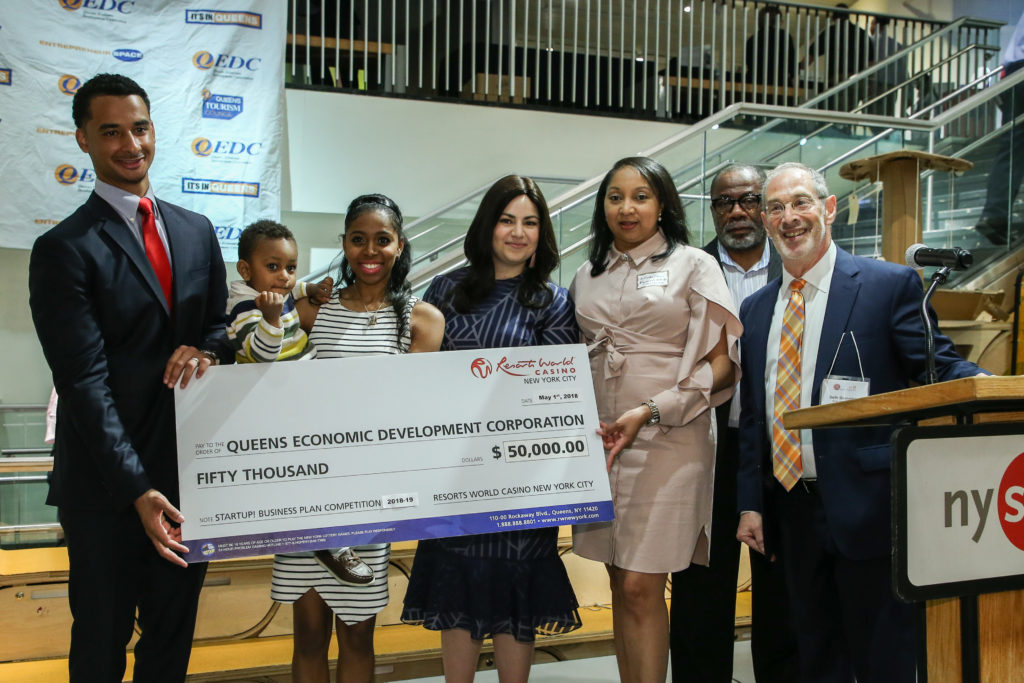 Victor Hunt (Paragon Real Estate Technologies), Movitsza Simmons (Smooth Pops), and Rebecca Deutsch (Impact Fashion)
You can compete in one of three categories
Community

A business either physically active in Queens or a virtual community that's serving all around the world with no limitation on location as long as the business is registered in Queens. A business delivers a need or responds to a demand of the community. The need or demand being met must create a positive social or environmental impact.
Food-Based

A business with its main activity being the creation and/or sale of a food or beverage product as a wholesaler, manufacturer, or retail business.
Innovation

A business creating something new, something better, serving an underserved or new market, creation of a new delivery system or distribution channel, has increased integration, or provides a resolution to a problem.
How It Works

Pick Your Category


Enter Final Pitch

Win $10,000 Cash Award!

Access to Feedback, Mentorship and More Financing Opportunities